Brochures
1985
Introducing the same old idea

1986
Introducing the same old idea

1987
Everyone needs a Yugo

1988
Yugo GV
Yugo GVL
Yugo GVX

1989
more to come
1990
Yugo GV+

1991
more to come
OTHER
Bumper Sticker
Drowning Mona

Media Resources
1988 Yugo GVX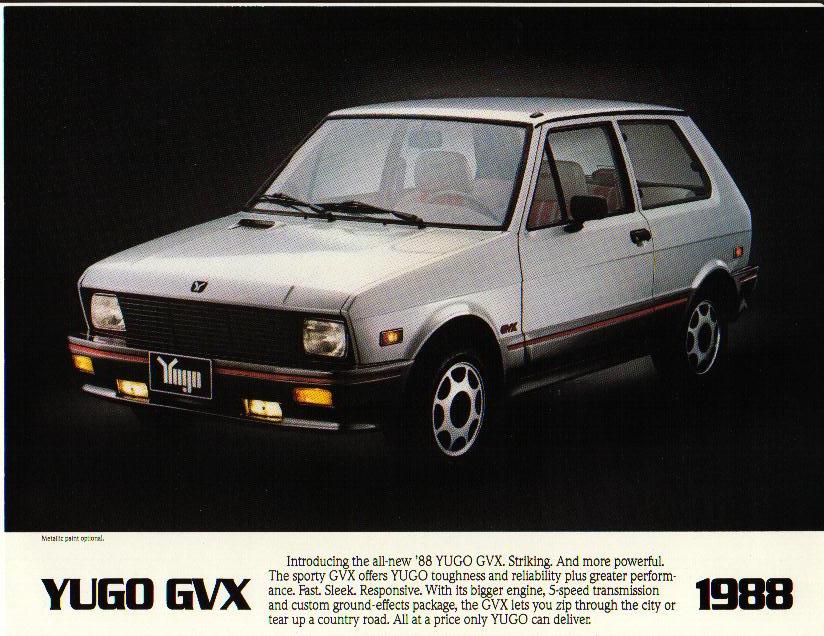 The Caption Reads:
Introducing the all new '88 YUGO GVX. Striking. And more powerful. The sporty GVX offers YUGO toughness and reliability plus greater performance. Fast. Sleek. Responsive. With it's bigger engine, 5-speed transmission and custom ground-effects package, the GVX lets you zip through the city or tear up a country road. All at only a price YUGO can deliver.

Caption translation coming soon!
NOTICE: ALL PICTURES ARE ORIGINAL SCANS BY YUGO WORLD. USE WITHOUT PERMISSION IS PROHIBITED.
Link not working? Drop me a line.